Chelsea Schneider, Municipal Innovations Specialist, Aim
Community leaders in Nashville and Brown County know high-speed internet connectivity is vital to attracting young professionals, families and business owners to live and work in a unique part of the state known for its scenic views and artistic heritage.
Local leaders have made strides in modernizing technology infrastructure and internet speeds to remove a challenge to the area's growth. Nashville and Brown County became the first town and county to be certified Broadband Ready by the Indiana Economic Development Corporation. And that work is paying off, with South Central Indiana REMC announcing plans to extend rural broadband to more than 24,000 homes in its service territory over a four-year period.
The expansion will allow residents to tap into cutting-edge technology where fiber optic infrastructure is run directly to the home and business.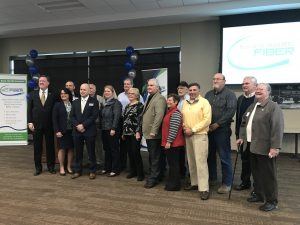 "The whole idea is to open up another door of hope for our communities, for our schoolchildren, for economic development and for folks who want to work from home," said James Tanneberger, president and CEO of SCI REMC as he announced the expansion at the nonprofit's headquarters in Martinsville.
Broadband development will help in training the area's schoolchildren, Tanneberger said, so they have the skills to work and excel in the community.
"So that we don't have our best leaving the area," he said.
Scott Rudd, Nashville town manager and economic development director, has been advocating for rural broadband, testifying this year on HB 1065 to create a state-funded rural broadband grant program.
"The addition of world class fiber optic internet in Brown County provides another compelling reason to live, learn and invest in Brown County," Rudd said. "We're excited about our community's future to be the place where leaders live."