FRENCH LICK – Kevin Crecelius, Municipal Utilities Manager of Shoals, received the 2021 Ivan H. Brinegar Municipal Management Award from Accelerate Indiana Municipalities (Aim). Crecelius received the award on October 6 during the Presidents' Reception at the 2021 Aim Ideas Summit in French Lick.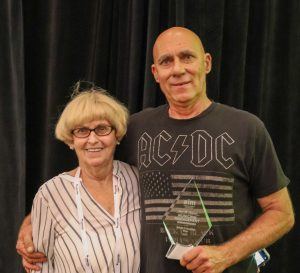 The Ivan H. Brinegar Municipal Management Award is presented to an appointed municipal official with a minimum of 10 years of city or town service who displays strong leadership, contributions to the community, and serves as a role model to citizens and other municipal officials.
Crecelius has been with the Shoals for over 15 years, completing many years of training and continuing education to hold several licenses. He is dedicated to his job, putting in long days and not ending the workday until the work is done. Crecelius is responsible for many aspects of the town, including wastewater, drinking water, mowing, streets, and the town owned cemetery.
"Kevin is a jack of all trades and he exemplifies the spirit of the Brinegar award.  This award is designed to honor men and women whose commitment to city and town government is shown not only in what they say, but what they do to make their communities the best they can be," said Aim CEO Matt Greller.
In its 45th year, the Aim Annual Awards program, presented by Baker Tilly Municipal Advisors LLC, recognizes communities and individuals in municipal government for excellence and outstanding achievement. A seven-member panel of qualified judges selected this year's winners from a competitive field of nominees from around the state.
Conference Facts:
2021 Aim Ideas Summit
October 5-7, 2021
French Lick Resort
Attendance: 1,000 (pending final registration count)
Further information: www.aimindiana.org
Since the 1890s, Aim, formerly the Indiana Association of Cities and Towns, has been an advocate for Indiana municipalities.  Aim is the official voice of municipal government in Indiana, with more than 460 cities and towns as members.  Our purpose is to foster, promote and advocate for the success of Hoosier municipalities as laboratories of innovation, hubs of talent and the engines driving our state's economy.