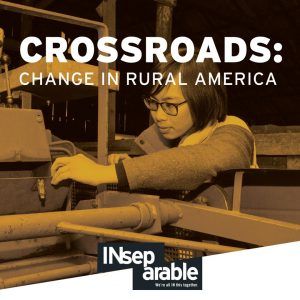 Submitted by Indiana Humanities
Indiana Humanities has selected six Hoosier communities to host a Smithsonian-curated traveling exhibit called Crossroads: Change in Rural America starting in September.
The exhibit is part of the Museum on Main Street program, a division of the Smithsonian that brings high-quality exhibits and resources to rural communities. The exhibit's purpose is to allow small towns a chance to look at the economic and social changes that have affected their fortunes over the past century, explore how they have adapted, identify what makes them uniquely appealing and spark discussions about the future.
One of the biggest changes over the past 100 years is that a much smaller percentage of
Americans live in rural communities, according to the Smithsonian. In 1900, 40 percent of Americans lived in rural areas, compared to 18 percent in 2010. In Indiana, the percentage dropped to 14 percent, according to the census.
"Conversations about change in our rural communities are vital to the future of Indiana," said Keira Amstutz, president and CEO of Indiana Humanities. "We are excited to be able to utilize the 'Crossroads' exhibition as a catalyst for dialogue around the past, present and future of rural Indiana."
Hosting organizations and dates for the exhibit are:
Dillsboro branch of the Aurora Public Library in Dearborn County, Sept. 7 to Oct. 20.
Washington County Historical Society in Salem, Oct. 26 to Dec. 8.
Jennings County Historical Society in Vernon, Dec. 14 to Jan. 26, 2020.
Elkhart County Historical Museum in Bristol, Feb. 1, 2020 to March 15, 2020.
North Manchester Center for History in Wabash County, March 21, 2020 to May 2, 2020.
University of Southern Indiana/Historic New Harmony in Posey County, May 9, 2020 to June 21, 2020.
"Like many rural areas, we have seen great changes due to school consolidation, construction of new highways, and changes in agriculture," said Peggy Dean, director of the Aurora Public Library District. "It is our hope the 'Crossroads' exhibit will provide a catalyst for community conversations. We look forward to working with the Town of Dillsboro and community partners to explore our past and to reimagine our future together."
Each community will host the exhibit for six weeks and receive training, funding or other resources from the Smithsonian, Indiana Humanities and the Office of Community & Rural Affairs.
The six hosts also will curate a unique section of the exhibit that tells the story of their communities. Host organizations will receive a $2,000 grant to cover costs associated with the development of the local component, including design, fabrication and more.
Another nine sites were chosen to receive grants to develop programs, mini-exhibits and other projects related to the themes of the "Crossroads" exhibit. Organizations that will receive $1,500 grants to develop related programming are:
Greentown Historical Society in Howard County
Harrison County Discovery Center in Corydon
Jasper Community Arts in Dubois County
Lawrenceburg Main Street in Dearborn County
Marshall County Historical Society in Plymouth
New Carlisle-Olive Twp. Public Library in St. Joseph County
Ripley County Tourism Bureau in Versailles
Trine University in Angola, Steuben County
Wabash County Historical Museum in Wabash
Indiana Humanities is bringing the "Crossroads" exhibit to Indiana as part of its new two-year initiative called INseparable. It invites Hoosiers to explore how we relate to each other across boundaries, real or imagined, and consider what it will take to indeed be inseparable, in all the ways that matter.