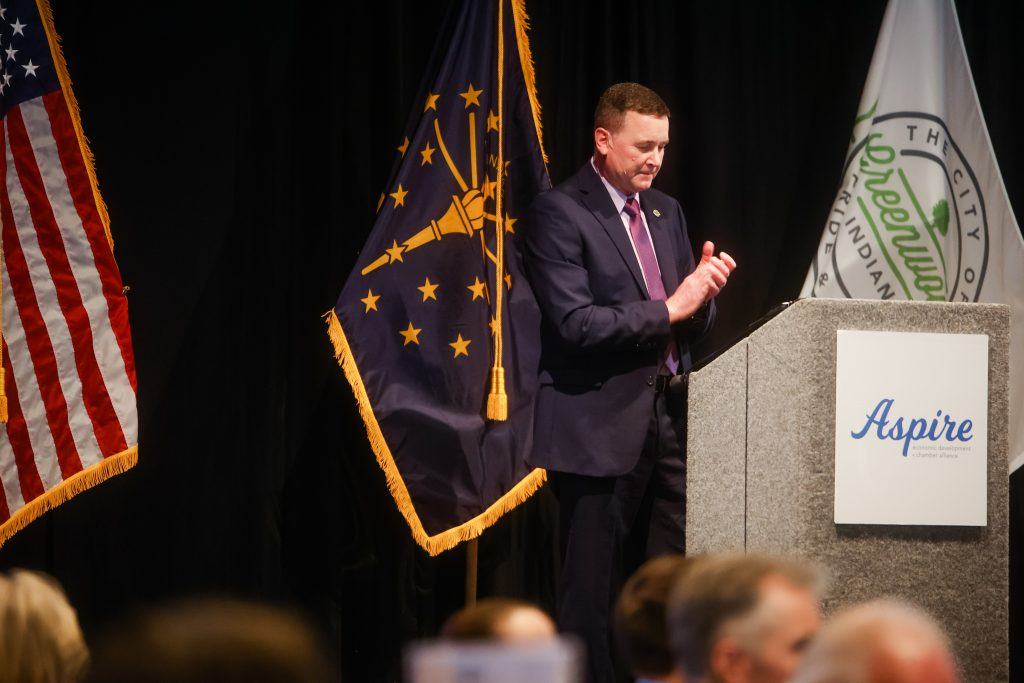 Jack Carney, Aim Hometown Innovations Contributor
This story is part of an Aim series where we will be reporting on "State of the City" addresses given by mayors from around the state.
Now in his 11th year as the mayor of Greenwood, Mark Myers has a decade's worth of community building and overall success to reflect on.
Greenwood's head man did just that while also discussing current infrastructure and quality-of-life investments during his state of the city address delivered to more than 200 business leaders, community advocates and residents in late February.
Myers and his staff have accomplished a lot in the past decade, but the longtime mayor honed in on three key accomplishments during his speech.
"Our assessed value has increased by more than $1.47 billion," Myers said. "We've created more than 4,400 jobs, and among all cities with more than 10,000 people, we have the lowest city tax rate in Indiana."
Myers has led Greenwood to these improvements by focusing on what he calls the "Four Pillars" of public safety, infrastructure, economic development and quality of life. The mayor touched on each of these areas while recapping the progress made in Greenwood over the past year.
When it comes to public safety, Myers thanked the town's police and fire departments for their daily sacrifices to keep Greenwood safe. He also mentioned that new hires were made in both departments in 2021.
"As many cities struggle to hire first responders, I am proud that we are fully staffed," Myers said. "These new and veteran team members are among the best in the Midwest."
The mayor also described some new equipment that the police department is leveraging. Greenwood added four new license plate reader cameras strategically placed throughout the city that have resulted in the recovery of 25 stolen vehicles, four missing persons and four wanted persons in 2021 alone.
Next, Myers stated that Greenwood is one of the fastest growing cities in the state, which makes investment into infrastructure a critical task.
"In 2021, Greenwood's street and waste management department poured more than 2,700 feet of sidewalk and swept almost 450 miles of streets four separate times," Myers said. "Our paved trails and sidewalks help us to become a more connected city and improve our walkability and quality of life."
Myers also highlighted two large infrastructure development projects during his speech. The most recent announcement is The Madison, an $83 million redevelopment project that will include hundreds of residential units, commercial development and a 500-space parking garage in downtown Greenwood.
"It is important that we provide diverse housing options to residents," Myers said. "The Madison will be inclusive of town homes, upscale condominiums and apartments in the heart of downtown, which will all diversify the housing options for all future residents."
Myers also noted the Greenwood Fieldhouse project, a redevelopment of the former Greenwood Middle School property into an athletic center that will include an elevated indoor track, two multipurpose turf fields, basketball/volleyball courts and several indoor pickle ball courts. The center is set to open at the end of 2022.
On economic development, Myers pointed to ERMCO, one of the top electrical, systems and automation contractors in the U.S., and its decision to move its headquarters from Indianapolis to Greenwood in 2021.
The announced was made in April of last year, and the company broke ground in August on a 205,220 square-foot facility that should be completed in 2022. ERMCO plans to relocate 150 jobs from its existing Indianapolis location and add 20 additional employees in Greenwood.
"We're always looking to bring in new businesses," Myers said. "We're always looking to bring in the higher wages, higher salaries and stable companies, like ERMCO."
Finally, Myers talked about the last of his four pillars: quality of life.
"Quality of life is our parks, our free events and festivals, our more than 50-mile trail network," Myers said. "Speaking of trails, the Greenwood Parks and Recreation Department recently published the five-year master plan that outlined the plan to spend more than $23 million in the next five years on new park development, trails, equipment and more. This is what investing in the community and quality of life sounds like. This year alone, we will invest $10.6 million on new park developments. That deserves some praise. But, quality of life isn't just about our public amenities, it is also about our low tax rate, low crime rate, our continued economic development and investments, and our improved infrastructure. I would argue that no city does "quality of life" as well as Greenwood."
Mayor Myers ended his address with a call to action to Greenwood's public servants and residents.
"We will keep going," Myers said. "We will keep doing great things. We will keep building the best quality of life for all our citizens. It's Year 11. Let's get to work."