Chelsea Schneider, Municipal Innovations Specialist, Aim
An architecturally-innovative play land. Sensory space to enhance accessibility. Ties with economic development.
Parks have long played a role in boosting the quality-of-life of cities and towns. Now communities are pushing forward with projects that put a unique twist on the belief that Hoosier communities are best with recreational spaces for all ages to grow, learn and play.
Noblesville's Federal Hill Commons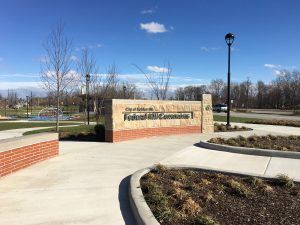 Noblesville opened Federal Hill Commons this year, a new urban park that hosts the city's popular farmers market and serves as a venue for Shakespeare in the Park, concerts, festivals and special events. And from November 24 through January 8, the Ice Plaza at Federal Hill Commons will feature outdoor ice skating that enhances the park's activities to make it a year-round destination.
The park's location is designed to extend the city's downtown across the White River near a growing trail system. And the park is blocks away from an international technology firm's new headquarters, with its leaders expressing the project played a role in their decision to stay and grow in Noblesville.
Noblesville Mayor John Ditslear envisions the park as a place to relax on a lunch break, read a book and catch a show.
"We know that sense of place is important," Ditslear said. "Our goal was to take the sense of place that is our historic downtown square and extend it west across the river to make the Federal Hill area part of downtown."
The park features an amphitheater and a playground, and its name is a nod to Noblesville's history. The area of the city, known as Federal Hill, dates back to the 1800s.
City officials expect the park to facilitate economic development for the west side of downtown. Estimates show the city will garner between $1.3 million and $1.6 million a year in new revenue from growth stimulated by the project.
"We didn't look at it as just a park," said Judi Johnson, the city's director of economic development. "We looked at it as an economic development driver. Urban redevelopment from a business perspective is really important today."
Parks, trails and other quality of life projects are vital in business attraction because amenities help with employee retention, Johnson said. When BlueSky Technology Partners looked to expand, they had several choices but liked Noblesville's investment in the park. Now, the company is investing $5.5 million in a new building and plans to double its workforce. The company also has attracted Bru Burger Bar, a popular Indianapolis restaurant that will occupy space on BlueSky's first floor.
"With BlueSky and then Bru Burger, there's a wonderful catalyst effect happening, which all started with the mayor's vision for Federal Hill Commons," Johnson said.
Richmond's Playground with a Purpose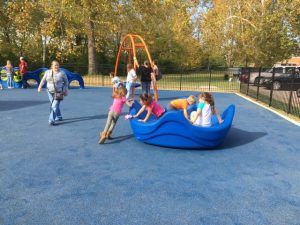 A new playground opened in Richmond this year that focuses on sensory play.
The innovative park the city developed with help from a team of Earlham College students is designed as an enclosed playground. The set-up strives to help children on the autism spectrum who may face dangerous situations at other playgrounds, said Denise Retz, Richmond's parks superintendent
The community grabbed hold of the project, and the improvements that were expected to take three phases were all done in one.
"We were able to offer 6 months of age to 12 years old at this playground," Retz said. "So it kind of makes it a different kind of playground where everyone plays together and all abilities are included. That in itself makes this project so special."
Richmond fundraised for the project through the state's new crowdfunding tool. The tool also has benefited several other park's projects, including ones in Columbus and Churubusco.
Columbus' Linden Project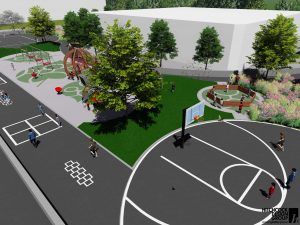 A project that began as a plan to develop a new playground for a local elementary school in Downtown Columbus will now serve as a play space for the broader community.
The Linden Project will replace dilapidated equipment with features that are linked to the city's architectural roots. Those include an innovative climbing structure designed as a globe and multi-person swings. The project received its name after organizers discovered the school's original architect had wanted linden trees for the space.
Because the park is situated along Columbus' architecture walking tour, community members knew they had to look at the project from a "different angle," said Jess Schnepp, fundraising coordinator for the park.
"We are downtown and there's not a park really in that area for the community to use," Schnepp said. "Once we realized that, we started reaching out to community partners to see what the needs may be, and adding all that in, it really took off to be more than just a school playground."
The motto for the park is: "Honoring our past. Redesigning our future." Along with the project's name, organizers are working to tie in many of the original architect's designs for the space, while accounting for modern accessibility and safety requirements.