Chelsea Schneider, Municipal Innovations Specialist, Aim
Aurora leaders knew the city's downtown needed some attention, but they faced hurdles in making those improvements.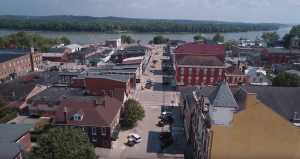 One of Aurora's greatest assets is its proximity to the Ohio River. However, the close location with its scenic views means the downtown area is in a flood plain, making it difficult to secure grants and other outside dollars to fund revitalization projects. Knowing change needed to occur for the city to keep progressing, community leaders tapped local funding to launch a façade improvement program.
From that program, the city has seen more than double its investment in private dollars being spent on downtown exteriors.
"It sparks some civic pride," City Councilman Mark Drury said. "I'm especially proud of our businesses that stepped up to the plate. With a little bit of nudging, a little excitement, they got very involved. And with just that encouragement – that little amount of money we gave – they brought a lot of money to the table and showed a sense of pride in their businesses and in the downtown district."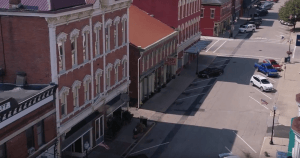 The program focused on renovating exteriors of buildings visible from sidewalks. The city matched dollar-to-dollar up to $5,000 per project, Aurora Mayor Donnie Hastings Jr. said. In 2016, the city provided $100,000 to begin the program, and renewed its commitment with an additional $100,000 for this year. The program is open to residential homes, commercial, retail and church buildings within the downtown area.
"It's didn't take long for the first year the money was gone," Hastings said, "because they were lined up to participate in the program."
Aurora wants to keep its small city feel, Drury said. But leaders know activity breeds activity.
"We're really trying to put emphasis on getting people more involved in things that go on in Aurora and providing more opportunity for them to become a closer-knit family," he said. "There's a family feel in a small town."
For its efforts, Aurora earned statewide recognition from Accelerate Indiana Municipalities for community municipal innovation at the Aim Ideas Summit this year.
"Our organization is dedicated to showcasing what's best about Indiana's cities and towns," Aim CEO Matt Greller said. "Honoring a city like Aurora is a great way to tell Hoosiers about the creativity and passion municipal leaders have for improving their communities."