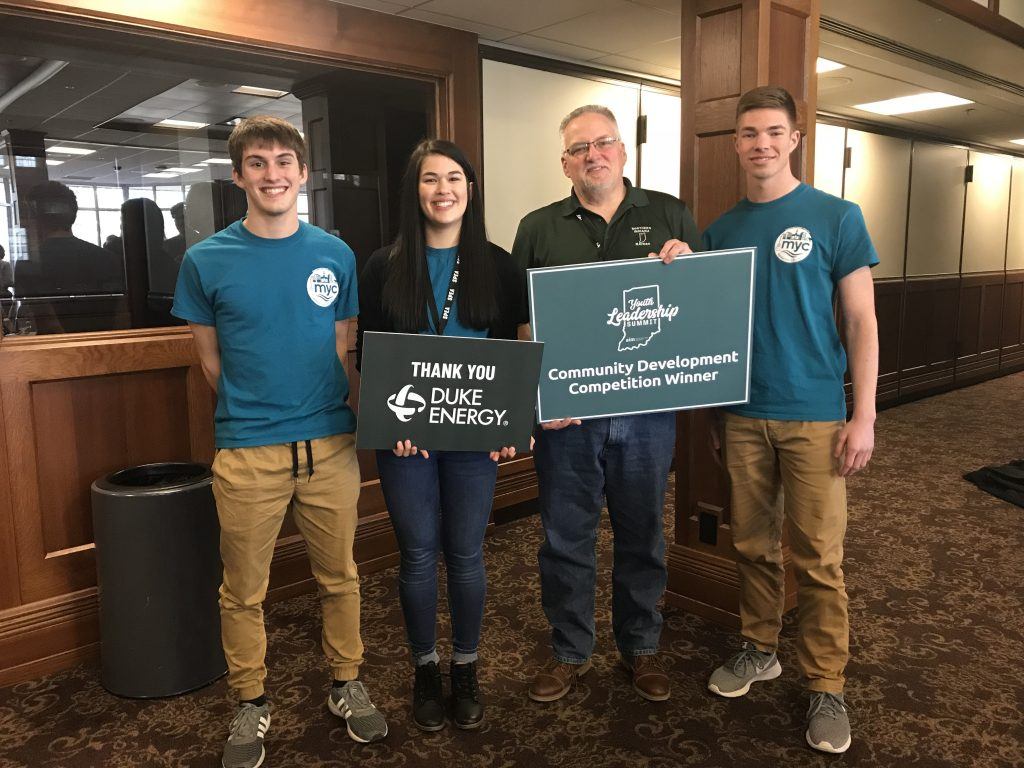 BLOOMINGTON, IND. – Student leaders from Wabash Mayor's Youth Council took home first place in the Community Development Competition during the 2018 Aim Youth Leadership Summit on Saturday.
For their efforts, the Youth Council will receive $2,500 to put toward an innovative community development project for the city. The Youth Leadership Summit featured a Community Development Competition, sponsored by Duke Energy, where students were tasked with creating an amenity for the fictional town of Hoosier, Indiana. The Wabash Mayor's Youth Council won the competition with its proposal for a community center.
"I am so proud of our young leaders in the Wabash Mayor's Youth Council. They showed true leadership and creativity during the Community Development Competition," Wabash Mayor Scott Long said. "I'm excited to partner with these students to ensure Wabash is a great place to live for generations to come."
Mayor Long joined the students at the Aim Youth Leadership Summit at Indiana University-Bloomington. The event is part of the Aim Youth Councils Network. Launched in 2017, the network's goal is to grow the number of youth councils run by mayors and town leaders in Indiana and provide statewide leadership development and networking opportunities for those groups.
"At Aim, we're focused on promoting the civic engagement of young Hoosiers in cities and towns across the state," said Matt Greller, CEO of Accelerate Indiana Municipalities (Aim.) "I was so impressed to see the dedication and enthusiasm these students have for their communities at the Aim Youth Leadership Summit."
Members of the Wabash Mayor's Youth Council who were part of the winning group include Picabo Saunders and Aidan Benysh of Wabash High School and Parker Mays of Southwood Jr./Sr. High School.
This year's Youth Leadership Summit was sponsored by Duke Energy, Ice Miller, Old National Bank, Made By Munsters, Faegre Baker Daniels, Indiana Housing and Community Development Authority and Indiana University School of Public and Environmental Affairs.
###
Media Contact:
Chelsea Schneider
Aim Municipal Innovations Specialist
Cell: 806-543-8507, Email: [email protected]