Chelsea Schneider, Municipal Innovations Specialist
Warsaw is raising funds to create a new outdoor destination in its downtown that will offer seating, public internet access and art.
The project will transform an alleyway to draw people downtown by enhancing the pedestrian experience and cultural elements of the city, said Justin Taylor, assistant city planner.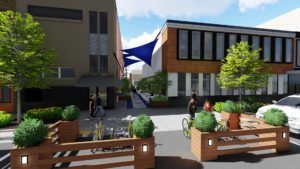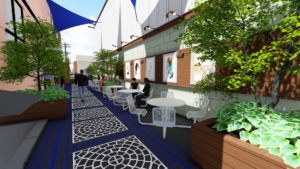 "It's going to put Warsaw into the consciousness of people," Taylor said. "Having a place like this will encourage people to say, 'Hey, we are investing in downtown.' People want to see that if they are going to grow roots in a place."
The city is hoping to raise $50,000 for the project through the civic crowdfunding platform Patronicity. The Indiana Housing and Community Development Authority will match the local funds raised.
The project features new tables and chairs for downtown visitors, landscaping, rotating artwork and wireless internet. Plans also call for new bike parking. The parking will support group bike rides, including a weekly event where riders park downtown to visit shops.
"This project isn't just about beautification; this alley presents the perfect opportunity to expand on the development already happening downtown," according to Warsaw's fundraising page. "More pedestrians lingering downtown means more business for local retailers. More open and usable space off the City Hall Plaza means larger and more engaging downtown events. And adding another great amenity downtown can only support and attract more local investment."
For more information about the Warsaw project, click here.
To learn more
Aim hosted a free webinar on April 27 on the Indiana Housing and Community Development Authority's new crowdfunding tool for placemaking initiatives. The session will cover developing a project scope, creating a budget and fundraising methods. You can request a copy of the webinar by emailing

[email protected]

.
Aim's Clerk-Treasurers School on May 10 in Indianapolis will feature a workshop on municipal crowdfunding. The workshop will cover fundraising options for placemaking projects.