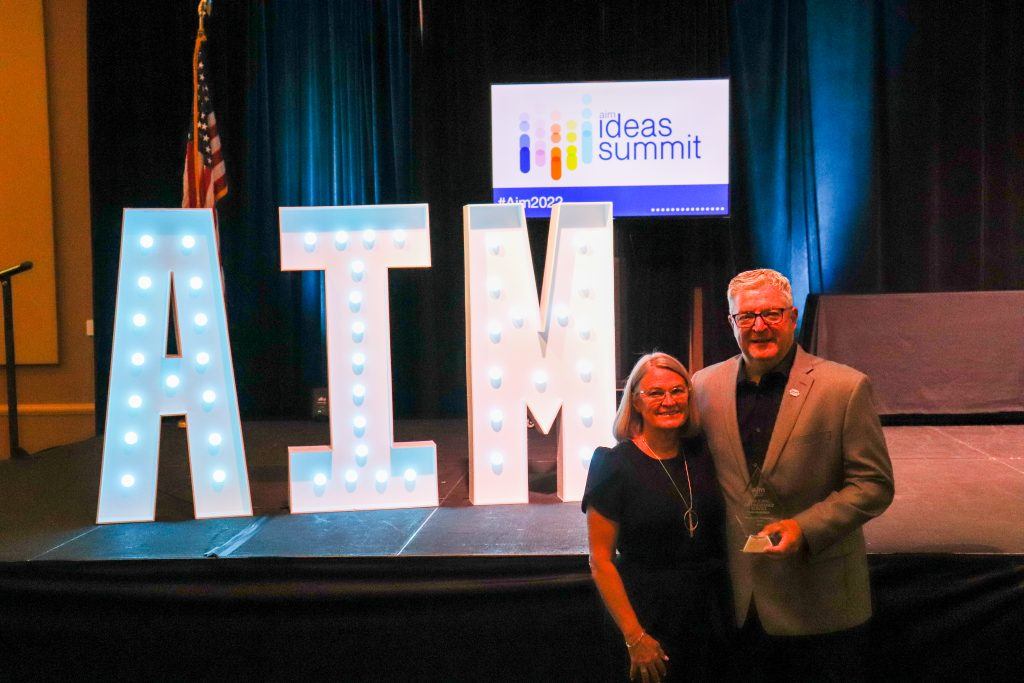 FRENCH LICK – Warsaw Mayor Joe Thallemer received the 2022 Russel G. Lloyd Distinguished Service Award from Accelerate Indiana Municipalities (Aim). Thallemer was presented the award on November 3 during the Presidents' Reception at the 2022 Aim Ideas Summit.
Joe Thallemer, a practicing optometrist, is currently serving his third term as Warsaw mayor. He also served three terms on the Warsaw city council and as a member of the city's Plan Commission. Thallemer's service to Aim has included membership on the Aim Legislative Committee, Board of Directors, President of the Aim Medical Trust Board of Trustees, and the only Aim President to have been elected to two consecutive terms.
"Aim has a history of strong leaders. We've had amazing presidents from Indiana's largest cities and smallest towns. However, Mayor Thallemer's steadfast leadership of Aim and the Aim Medical Trust during a global pandemic, left an indelible mark on our organization. You will not find a member of Aim who isn't thrilled for Mayor Thallemer to receive Aim's highest honor, the Lloyd," said Aim CEO Matt Greller.
The Russell G. Lloyd Distinguished Service Award, named for former Evansville Mayor Lloyd, is given to an individual who has made outstanding contributions to local government. Nominees for this prestigious award must display accomplishments beyond their community, including contribution to Aim and public service, leadership and personal initiative.
In its 46th year, the Aim Annual Awards program, presented by Baker Tilly Municipal Advisors LLC, recognizes communities and individuals in municipal government for excellence and outstanding achievement. A seven-member panel of qualified judges selected this year's winners from a competitive field of nominees from around the state.
Conference Facts:
2022 Aim Ideas Summit
November 2-4, 2022
French Lick Resort
Attendance: 1,000 (pending final registration count)
A Message from Mayor Thallemer
Dear Aim Members:
This year's Aim Ideas Summit in French Lick was quite a success! Record attendance, quality education, and extensive networking opportunities were the product of the hard work and planning by the Aim staff and a strong commitment by our members that resulted in a very meaningful, productive meeting.
Thank you to Mayor Clint Lamb for his energized leadership this past year and his successor Mayor Mark Myers, who will continue to move our great organization forward.
I am especially appreciative of the opportunity to thank you all for honoring me with the Russell G. Lloyd Distinguished Service Award. I was deeply honored and can never express enough gratitude to the Aim membership and staff for the recognition.
I am always very humbled when being singled out for something like this. I know, especially with an organization like ours, there are many, many quality leaders who are inspired to improve their communities, that benefit our organization and are worthy of recognition. To be honored by my peers is an immeasurable gift.
For the benefit of all of our cities and towns, I thank you from the bottom of my heart!
Sincerely,
Mayor Joe Thallemer
City of Warsaw