French Lick – Accelerate Indiana Municipalities (Aim) announced the town of Whiteland has earned an Aim Program Innovation Award. The city was honored with the award on Wednesday, August 23rd during the Annual Awards Luncheon, presented by Baker Tilly Municipal Advisors, LLC during the 2023 Aim Ideas Summit in French Lick. Whiteland won in the less than 5,000 population category.
In early 2023, Whiteland Community High School teacher Justin Schwenk approached the Whiteland Community Development Director asking town leadership to identify an authentic and current problem that was impacting our local government for his Dual Credit Government class.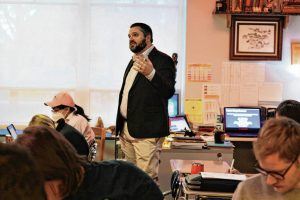 Following a devastating tornado in March of this year, town officials identified several key issues they thought the students could review in hopes of providing the Whiteland community with an emergency management plan to assist with future disasters.
In May 2023, less than eight weeks after the tornado, the students presented their final projects, including an emergency management plan, to the town, Johnson County Emergency Management Agency, and a representative from FEMA. The school, town, and involved agencies all deemed the project a great success and Whitestown expects to work with the high school again to assist with innovative solutions to tackle local challenges.
Aim CEO Matt Greller said, "Municipal government leaders need young people to invest in their community in hopes they will continue to call it home when they make plans for their future. I love that a small town is looking down the road and embracing the contributions that a determined group of high school students can bring to the table. Increased safety for the community and being receptive to unconventional approaches – this is such a deserving initiative for the Aim Program Innovation Award."
The Program Innovation Award honors communities that introduced and executed new ideas and methods to carry out municipal activities. Awards are presented in multiple population categories based on nominations received.
In its 47th year, the Aim Annual Awards program, presented by Baker Tilly Municipal Advisors LLC, recognizes communities and individuals in municipal government for excellence and outstanding achievement. A seven-member panel of qualified judges selected this year's winners from a competitive field of nominees from around the state.
Conference Facts:
2023 Aim Ideas Summit
August 22-24, 2023
French Lick Resort
Attendance: 1,000 (pending final registration count)