Chelsea Schneider, Municipal Innovations Specialist, Aim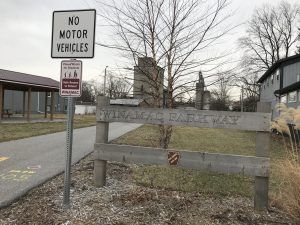 Winamac is working on plans to extend a popular trail and preserve a suspension bridge over the Tippecanoe River that serves as a soldiers and sailors memorial.
The town has applied for grants to update the bridge originally dedicated in 1923 and extend the Winamac Parkway, which feeds into a larger trail network. The hope is to complete the portion of trail within town limits, with the goal that one day the overall trail network – known as the Panhandle Pathway – will connect two major parks in the area.
"We are trying to do our part to lessen the burden financially," Winamac Clerk-Treasurer Melanie Berger said of Winamac's portion of the Panhandle Pathway. The trail extending completely across Winamac would make it easier for a bicyclist to travel downtown to a local restaurant and return home.
The town also hopes to spruce up the trail with landscaping, lighting and picnic tables. It recently added public restrooms on a popular stop on the trail.
The improvements also would contribute to another goal of town leaders.
"I'd love to see more downtown businesses, the growth of downtown – that would be huge for us," Berger said.