GOVERNOR ERIC HOLCOMB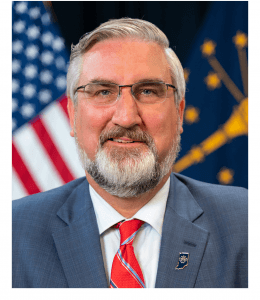 Governor Holcomb will be joining us at the Opening Business Session on Wednesday, November 2. Don't miss the opportunity to hear directly from the 51st Governor on important issues that effect local leaders and all Hoosier communities.
A lifelong Hoosier, Gov. Holcomb is a veteran of the United States Navy, served as the state's 51st Lt. Governor, was a trusted advisor to both Gov. Mitch Daniels and Sen. Dan Coats, worked for Congressman John Hostettler and is a former state chairman of the Indiana Republican Party. He was elected governor in November 2016, following an unprecedented 106-day campaign and was sworn in on Jan. 9, 2017.  In 2020, he was elected to his second term with the most votes for governor in Indiana history.
To accelerate the state's economic growth, Indiana launched the Regional Economic Acceleration and Development Initiative (READI), a bold, transformational initiative that will dedicate $500 million in state appropriations to promote strategic investments that will make Indiana a magnet for talent. In the 2022 legislative session, Gov. Holcomb successfully positioned Indiana to compete at an even higher level for economic development opportunities by modernizing the tools available to the state's economic development arm and continues to maintain a high level of reserves while returning funds to Hoosiers through an automatic taxpayer refund and lowering individual income taxes.
Gov. Holcomb is focused on moving our state forward. In his first months as governor, he led the way for the largest long-term infrastructure investment in our state's history with the long-term, fully-funded 20-year, $60 billion Next Level Roads program. He also created the Governor Public Health Commission in 2021 to study and make recommendations this year about how the state can improve the delivery of public health services throughout Indiana. All of this work is underscored by Gov. Holcomb's commitment to delivering great government service for Hoosier taxpayers. Indiana was ranked first in the nation for government efficiency by U.S. News & World Report in 2017.
The governor is a graduate of Pike High School in Indianapolis and Hanover College in southeastern Indiana where he majored in U.S. History with a focus on the American Civil War and the Reconstruction Era. He is a collector of presidential signatures and currently has documents signed by all 45 of our nation's presidents. He and his wife, Janet, live with their Miniature Schnauzer, Henry, and their cat, Topper, in the Governor's Residence on North Meridian Street in Indianapolis.
LIEUTENANT GOVERNOR SUZANNE CROUCH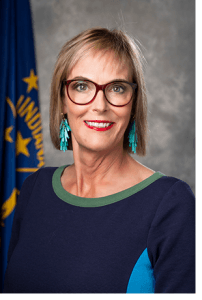 Lt. Governor Suzanne Crouch will being giving remarks to Aim Ideas Summit attendees at the Annual Awards Luncheon on Thursday, November 3.
Proud to have been born and raised in Evansville, Lt. Governor Crouch previously served as Indiana's State Auditor since January 2014. Before becoming Auditor, she served as the State Representative for House District 78 which encompasses parts of Vanderburgh and Warrick counties. She was elected to the seat in 2005, and served as the Vice Chairman of the Ways and Means Committee and on the Public Health Committee. Throughout her years of public service, Lt. Governor Crouch has been focused and committed to programs and services for people with disabilities.
Prior to serving in the House of Representatives, Lt. Governor Crouch spent eight years as Auditor of Vanderburgh County. During that time, her office received its first clean bill of health in decades from the State Board of Accounts. She then went on to serve as a Vanderburgh County Commissioner until joining the Indiana House of Representatives. She presided as president of that body during her third year in office.
Constitutionally, as lieutenant governor, Crouch serves as the President of the Indiana Senate. Statutorily, the Lt. Governor oversees a portfolio that includes the Indiana State Department of Agriculture (ISDA), Indiana Housing and Community Development Authority (IHCDA), Office of Community and Rural Affairs (OCRA), and Indiana Destination Development Corporation (IDDC).
Additionally, she chairs the Roundtable on Mental Health, the Intellectual and Development Disabilities Task Force and the Civics Education Commission. Other initiatives she and her office oversee include the Next Level Connections Broadband Grant Program, the Golden Hoosier Award, Hoosier Women Artists and Brilliant Firefly.
Lt. Governor Crouch graduated from Mater Dei High School in Evansville. She went on to receive her Bachelor's Degree from Purdue University, majoring in Political Science. She is married to Larry Downs and together they have a grown daughter, Courtney.
KEYNOTE SPEAKER: LEILA BRAMMER
Keynote speaker Leila Brammer will be joining us at the Closing Business Session on Friday, November 4. Leila Brammer studies and builds frameworks in which community members come to understand problems from multiple perspectives and work together to develop evidence-based approaches to address challenging civic issues. She established a nationally recognized civic learning and engagement curriculum and a community-based public deliberation and dialogue program.
As the inaugural Director of the University of Chicago's Parrhesia Program for Public Discourse, Leila developed curricula, programming, and outreach to advance the Chicago Principles of Freedom of Expression and foster the capacity for vigorous, inclusive, and productive discourse in the classroom, campus, and civic life. Currently, she is a teaching professor in communication and media studies at the University of Tampa.
Read more about Leila and her focus area:
At UChicago, undergraduate program puts free expression into practice
Faculty Network Interview: Leila Brammer, University of Chicago
Figure of Speech: Questions for Leila Brammer, inaugural director of the College's Parrhesia Program for Public Discourse
The Discursive City: A Chicago Futures Distinguished Lecture with Leila Brammer
COPORATE MEMBER VENDOR PARTY
Join Aim Corporate Members on Thursday, November 3, 7:00 p.m – 10:00 p.m. at the French Lick American Legion for the Corporate Member Vendor Party. The evening of food, drinks, live music, and dancing is open to all conference attendees. The American Legion is within walking distance of the French Lick Springs Resort.
EXTENDED EXHIBIT HALL HOURS
Aim is dedicated to bringing more networking opportunities to you! For a second year in a row, the exhibit hall will be open longer than ever. After Wednesday's Opening Business Session, the exhibit hall will be open through Thursday afternoon. Take your time to explore the hall and meet corporate members with a variety of specialties!